SCARY SCOLERIS PRINT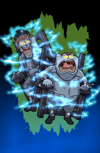 This poster print is a humorous and nostalgic homage to the classic movie scene, where the Scoleri Brothers were brought to life by the negative emotions of Judge Wexler. The print features Nunzio and Tony Scoleri, the two convicted killers who were sentenced to death by electrocution by the same judge. The print depicts them in a cute and exaggerated style, with big eyes and sharp teeth. The print has a retro vibe and a bright color scheme that will make it pop on your wall.
This poster print is a perfect gift for any fan of Ghostbusters 2, or anyone who enjoys a quirky and colorful artwork. It is a great way to celebrate the comedy and horror of the 80s movies and toys. The print measures 11 x 17 inches and is suitable for framing. Order yours today and bring some ghostly excitement to your wall!